Boston in one Day
I've spent three full days in Boston and realized: If you'd like to skip long museum visits and want to focus on Bostons center, it's possible to do it in one day. How did I realize that? Two of the days I was here it was raining and super cold so I spent them planning the sunny day that was to come.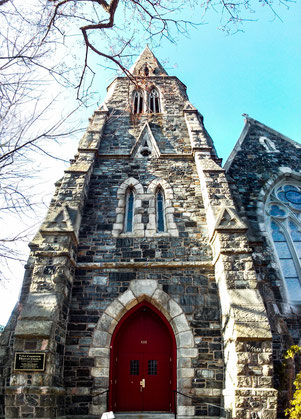 Where to stay?
Most people think that staying Downtown in whatever city is always best. I say, that's wrong. Here in Boston I couchsurfed in Cambridge, it's on the other side of the river but a 10 minutes train ride from downtown. The area is safer, there's some nice buildings and tons of restaurants, shops and cafe's are within walking distance. And, for everyone who's interested, Harvard University is close too.
Starting the day
First thing I did when I left the apartment at around 9am is head towards the Red Line station "Harvard" and get some coffee on the way. Head inbound until you reach the stop "Park Street". When you get off and step outside you're in a big park where the start of the famous "Freedom Trail" is located. Walk to the Visitors Information Center and from here, just follow the red brick line that will lead you all around the city to the most important sights. There's tons of information and flyers in different languages to take with you.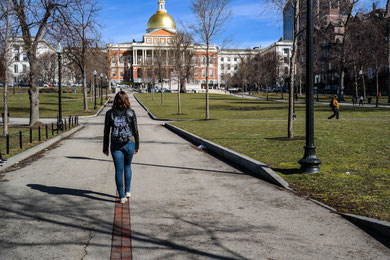 Walking the Freedom Trail
It's very convenient and super easy. Just follow the bricks and it will lead you all the way through town past churches, the city hall, old markets and Little Italy. It takes about three hours with a tea stop and taking some time at each sight. Once you reach the bridge at North Washington Street you can chose to end the walk here. At the other side of the bridge you will find monuments and museums about the US Constitution. If that is not in your interest, head down to the North Station. Here I took the Orange Line down to Chinatown to look around and go for chinese lunch!
In the afternoon, after lunch, I decided it was time for one more stop so I headed back to the Red Line station "Park Street". This time I walked towards the Massachusetts State Hall and down Beacon Street until I reached Joy Street. Turn right here and you'll end up in the suburb "Beacon Hill". Probably the district with the most beautiful houses. All made out of red bricks, with lovely decorated doorways, one after the other. Beautiful!
I walked down Mount Vernon Street until I reached Louisburg Square and turned right twice onto Pinckney Street. Those two are the mayor streets up there where you'll find lots of nice old brick houses to take pictures in front of them. Here is where I took my first picture with my new Instax8 mini!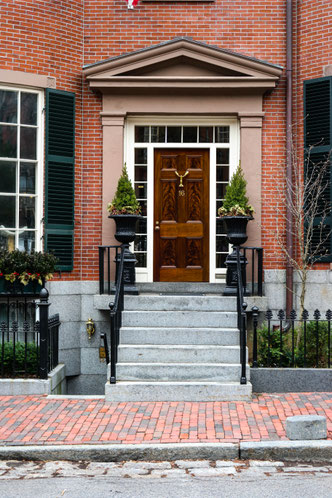 To head home, "Park Street" station was closest to where I was so I headed back Pinckney Street until I reached Joy Street again that took me back to the station. I finished around 3pm so there is still some time for a museum or Harvard University!
Recommended museum:
Or, if you feel that is not for you, in front of the Massachusetts State Hall there is another trail going into the opposite direction of the Freedom Trail:
The Black Heritage Trail leading to the Museum of African American History.
---