5 Days Chicago: 6 Things to See and Do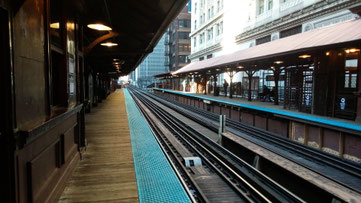 Chicago is the first big city I visited in America. Until now I lived on a ranch, all I've seen are horses, some Amish people and landscape...loads of endless fields! The biggest town I've been to - well, we drove through it on our way to the Niagara Falls - was Buffalo, NY. So when I arrived here at 5am at the Greyhound Station downtown, I was stunned. Of course, tired from the bus ride and everything was still dark plus I was blind due to stepping on my glasses.
First thought when I left the station: I don't want to ride the public transport to where I'm staying, not with my huge backpack and at night. So, I called an Uber. He arrived really fast, there were tons around, even at 5am! Half an hour later and 27$ poorer I arrived at my couchsurfing place...an went to bed. The follwing days I had time to check out the transport system, look around and get used to civilization. Here is my Chicago bucket list!
#1 - Chicago Deep Dish Pizza
Probably the one thing everyone has heard of. Except for me. When I came down here I met a friend from Springfield, Illinois, and he was upset when I told him that I had no clue what he was talking about! So, he dragged me into the next Giordano's. You have to expect about half an hour of waiting time, but while waiting you can browse the menu and pre-order. I highly recommend to pre-order! The pizza takes about an hour to finish! I decided to go for the Chicago Classic but we had to order half Pepperoni, half Chicago Classic...someone apparently doesn't like onions, mushroom and pepper on his pizza. *rolls eyes* Anyways, there are tons of different kinds and in case you're not a fan of stuffed deep dish they also do normal thin crusted pizzas. I really liked the pizza except for the crust...I prefer normal pizza crust but it's worth a try. Oh, and by the way, it's super filling so a small one is definately enough for up to three people!
#2 - "The Bean"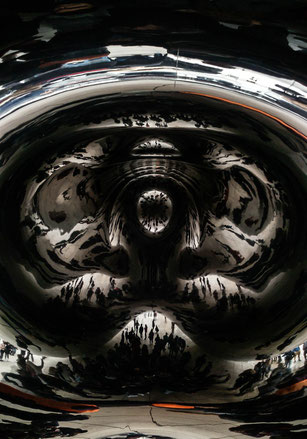 Officially called the Cloud Gate, it is an artwork located in Millenium Park. A giant, bean-shaped, thing that reflects the surrounding city parts in a very weird way! Interesting to see and fun to try different pictures of oneself!
#3 - Shopping
A lot of people, brochures and websites will recommend the "Magnificent Mile" for a shopping stroll. What they mean is the North Michigan Avenue, four blocks from the Navy Pier away and a lost of shops. BUT! The expensive ones. Prada here, Ferragamo there...to conclude, I was a bit disappointed. I'm backpacker and even if I wanted to, those prices are out of my league!
Here's the tip for everyone else: State Street! Closer to the train lines (blue and red line), cheaper shops and all of them close together. From Urban Outfitters to Forever 21, Target, Zara and H&M, you name it! And, of course, a Starbucks is never far! :D
#4 - The Chicago Skydeck
My second day in the city I woke up to a clear blue sky, not a single cloud, and sunshine. A perfect day to go and visit the Skydeck at Willis Tower. Located at South Wacker Drive it is 443m (1.450 feet) high and 110 stories tall. So I took the trains to Wacker & Adams and walked there. And so did about 300 other people. As I arrived, the queue reached the end of the block and multiple bus and taxi drivers were screaming "2 hour wait, come with us...!". That shocked me...two hours? But I stayed...the first queue, turns out, is only for security and it moves really quickly. Down there you really have to wait. About 45min later I pass security, another 20min later I can buy my ticket. Normal ticket: 23$, Fast Pass: 49$. The Fast Pass saves you another 2 hours of waiting, so I got that one. Normally only sold with a City Pass for 99$ (yeah right), the nice young man there got me through! 5min later I'm at the top. Amazing view! Nothing compared to the Skytower in Auckland, clear view that day and I even faced my fear of falling and took pictures on "the Ledge" - glass boxes for you to stand in and look down 110 stories! Scary.
Tips: pre-purchase your tickets online for less waiting, Fast Pass if you'd rather spend more money than wait OR plan ahead - be there early!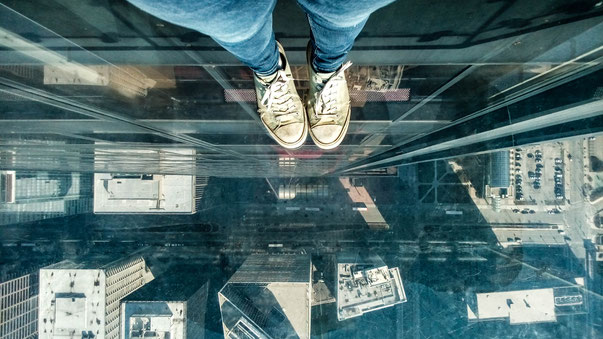 #5 - The Navy Pier
A nice spot at the shores of Chicago's big lake is the Navy Pier. Go there by foot four blocks east of North Michigan Avenue or take a bus or shuttle over there. There is a mall with a nice inside garden there where I sat and did some sketching of the plants and palm trees. Once you leave that garden through its big glass back doors you enter the pier with its rides like a caroussel and a big ferris wheel, which is 15$ per ride. It gives a nice skyline view but check their opening hours if you want to experience the view at night, they vary between 8 and 10 o'clock!
There's also a bunch of restaurants and shops inside the mall with every souvenir you could think of!
#6 - Chicago Skyline
There are a few spots from where you have a good view at Chicago's skyline. My favourite was in front of the Adler Planetarium. You can drive all the way up there and when you turn around you have a beautiful view at Chicago across its lake. Day or night, it's pretty but at night it is probably more magical. The only negative thing about the spot is that because of the lake there is a lot of wind and no matter what temperaturese: it's gonna be cold there!
---