Caught in a Blizzard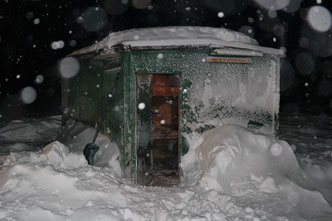 The previous volunteers that had picked me up from the airport soon left and we waited a week with road trips for the next ones to arrive. When the first out of three was finally here we packed our stuff and headed into the Chilkat Pass. Turns out that ignoring a blizzard warning is not a great idea and we luckily made it as far as to reach the famous green shack up in the pass - a survival shelter for everyone to use, convenient for bikers and hikers in the summer and that night our shelter from the blizzard, so we fired up the wood stove in there, cooked our dinner and after playing cards for a good while we went to bed. There's one bunk bed, the bottom one fitting two people.
Before leaving the next morning I wrote into the logbook there and read some of the other entries and because the blizzard was still going we decided to cancel snowshoeing up to a helipad for the view and headed back down.
To not waste the day we stopped at Kluane National Park and hiked up to the camping spot and lake. Well...we tried. It is supposed to be a 15km round trip but we started into the wrong direction leaving us with 4km and more of steep inclines and a path that was hardly visible because not mentained and hence full of snow. After the sun went down and we reached a sign saying "11 km" - counting from the other way round - we decided to not hike the other 11 km and headed back the way we came…
On our way back into the Yukon Territory we stopped at the "Welcome to the Yukon" sign to take pictures there and drove through a small first nations village (I forgot the name). But because it is winter no one was there...a typical tourist spot that's only open in the summer...
---
Leave a comment to tell me what you think! Subscribe for updates and more!