The Yukon Quest 2017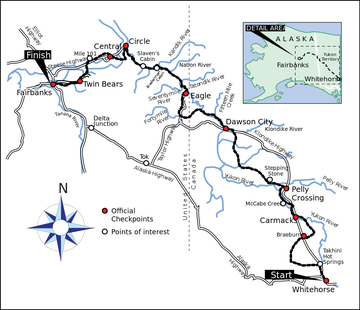 By coincidence I am staying in the Yukon just long enough to have had the opportunity to experience the start of the Yukon Quest. It's the worlds toughest sled dog race from Whitehorse, Canada to Faibanks, Alaska, alternating starting points each year between those two cities. 1.000 miles through the loneliest wilderness, freezing temperatures and mountains to climb. On February 4th 2017 21 sled dog teams started from Whitehorse this year, each musher with his 14 dogs, veterans and newcomers. There are a few checkpoints out there, like Pelly Crossing or Dawson City with its mandatory 36 hour stop to have the mushers and dogs rest.
This year it took 1.000 volunteers and I was one of them. They are always looking for people to help out and they come from all over the world to volunteer and be a part of this race. My case was simpler: Sunday the 29th of January started the Quest Fest with free dog sled rides by Muktuk and Skyhigh Adventures around the shipyards park in Whitehorse. Some friends and I heard about it and originally went there to go and have a short sled ride ourselves when we were asked to stay and help out with keeping pet dogs at a distance to the mushing dogs. When the rides ended around 3pm they thanked us for hanging around and we got a Yukon Quest volunteer patch and a poster thanking the volunteers. And that's how quickly you can become a volunteer. Two of my friends helped out later that week at the old fire hall where they play mushing movies, have speeches held and more information about the Quest.
When the day of the Quest had come we got up early to be there in time. 1 and 1/2 hours of driving from Tagish to Whitehorse later we were there, at the shipyards park in Whitehorse. They had already blocked off the middle part where the mushers would come through so we looked for some places along the rails. You could hear excitedly barking dogs everywhere and at first I didn't even feel the nice -24°C we had! First some first nations people did a traditional dance with drumming and singing and then a sled dog team not participating in the race itself started advertising some dog blankets made by first nation people. I wonder how far he got...
After some waiting and struggeling to find the right spot for my freshly charged camera to set up - next time I'll get a photographers access and stand next to the trail itself like they could! - they started to anounce the first musher. Every two minutes from then on one of the 21 teams would start and leave Whitehorse, dogs barking and jumping and pulling until they finally remove the ice hook and the musher steps off the brake. And off they go, at an incredible speed that is! Every time one left the crown cheered, the cameras klicked and the mushers waved their good bye. The only time their handler are allowed to help them with their dogs is in Dawson City. At every other checkpoint they spread the hay for the dogs and feed them themselves. If one of your dogs gets sick you take him out but you're not allowed to swap them. If you loose a dog, you've got one less to go. Given that the minimum amount of dogs you have to finish with is 6 the mushers take really good care of their dogs, most of them see them as family anyways..
After the last musher has left Whitehorse you can drive up to the Takhini River Bridge to see them go past a second time. The teams take about an hour to arrive there. Unfortunately we spent to much time drinking hot chocolate and warming our frozen feet and hands at Tim's so we missed them there...But! There is a third chance for you! Drive up the road a little longer to the Takhini Hot Springs sign and walk down onto the frozen river and they'll pass you about another hour later. There's not a lot of people there so I got a good spot and lots of nice pictures of the teams passing. Luckily nobody complained that I stood in the middle of the track taking pictures of the sled headed towards me :D Some of the mushers will even wave, everyone greets you going past and after the last one was gone I had no memory left on my camera's SD card!
If you do not wait for the mushers at that third spot you have the time to head back to Whitehorse to see the teams for the shorter 300 miles race to Pelly Crossing leave the city and an hour later you can see them go past the Takhini River Bridge once more. However, I had run out of memory and the others were frozen - dancing while waiting for the teams really helps keep your feet warm! - so we headed back home...The next Yukon Quest with a photographers access and more memory on my camera's SD card!
---