On My Way to Sydney!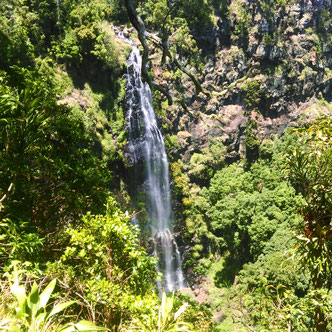 Back at Fraser Island I met three really nice Dutch guys who in the end invited me to join them in their campervan down to Sydney! I had my bus back to Brisbane included but I had no idea how to get to Sydney, where my flight to New Zealand would leave from. So, given that the Greyhound bus is fairly expensive and I didn't really want to hitch-hike this was the perfect opportunity for me. They picked me up in Brisbane and we headed off to O'Reilly national park – according to the uncle of one of the guys who lived in Australia one of the best places there. We did two shorter walks there: one to the Morans Falls and one to Python Rock – sadly no pythons there…it really is a nice national park, get a really nice view into the valley below and don't have to pay for .
After that we headed to Surfer's Paradise to spend a night there. The boys have had a surfing lesson before and therefore wanted to rent a surfboard to go out on their own and practise. Since I've never had lessons before I decided to just relax on the beach…I can windsurf pretty well but I guess I wanted to wait for a good looking surfer boy to teach me ;) Surfer's Paradise didn't really impress me…a long white beach but behind that there's a huge street and tall skyscrapers, not really my kind of town. Other than that it's really stretched out but there's decent night life around.
Having spent a night there we headed off to one of my favourites so far: Byron Bay. A relaxed town, no tall buildings and wide streets with a lot of walking space. We spent four nights here, checked out both the Cheeky Monkey's and the Woody's night club – both very good although I preferred the music at Cheeky's. Then some dude turned up at the camping site and invited us to a three hour surfing lesson with the school "Kool Katz" for only 30$ saying that if you couldn't ride 40m by the end of the lesson you'd get your money back and that all equipment would be provided. So we decided to join! They picked us up the next day at around 11am and we drove off to another bay with fever people and oh! Hello good looking surfing teacher ;) One young guy joined the old guy and we split into two groups, going into the water one by one forming a kind of circle: one goes up to the teacher, hops on and they push you onto the wave. If you can do it alone you can go a bit further up or down the beach and have fun on your own. So, as I mentioned I did do windsurfing but I was told that it's supposed to be very different to surfing hence I imagined it to be quite hard – at least that's what I've been told by the Dutch guys. But, turns out I'm quite good at it! First time on a board, riding the wave all the way to the beach without falling off! Good job, me :D After those three hours of surfing we were driven back and dropped off at our camping site where we relaxed with a beer or two…surfing is exhausting!
I only spent two nights in Sydney and I have to say: thank god. Turns out I really don't like cities and Sydney is way too busy for me. I booked a hostel called "The Village Inn" – 2 mins from Bondi beach but half an hour by train and bus to the city centre. There were a lot of French people and my room was over booked: five people in a four bed bedroom…plus only one shower for the whole floor and you couldn't lock it…what a mess. If you're going to Sydney you'd better choose something closer to the centre and remember to book early, otherwise you'll end up like me. This was the only decently rated hostel that still had room when I booked it! Bondi beach is not really impressive, a ton of people from early morning to late afternoon and only a few spots were you're allowed to swim in the ocean: therefore those places are VERY crowded. Of course I couldn't leave Sydney without checking out the harbour and seeing the opera house, so I met up with two friends I made in Brisbane and we decided to take the next ferry in the harbour going to whatever island because we figured seeing the opera house from the ferry was way better than squeezing through the crowds at its doors. So we ended up going to Cockatoo Island: apparently an old military/mariner harbour thing – no, no cockatoos. We walked through an old tunnel and one of the staff members there got us a lift on his golf cart back to the next ferry to the main land. It's surely not an exciting island but the drive through Sydney's harbour and the good view at the opera house were worth the ride.
---