Sight Seeing and Koalas!
I spent a few days in Brisbane, a rather relaxed city – that's my impression.
Me and two of my dorm room roomies walked through the botanical gardens – thanks to our Uber driver Dave for collecting us when we got lost and bringing us there! – which were not really that impressive, just a nice park at the riverside but still nice to walk around it.
After that we hopped onto the free ferry that goes up and down the river passing some of the most important sights like the Ferris wheel, the artificial beach and night life district and an impressively high rock wall at one side of the river.
A nice and enjoyable ride, the ferry was not too crowded and free stuff is always fun!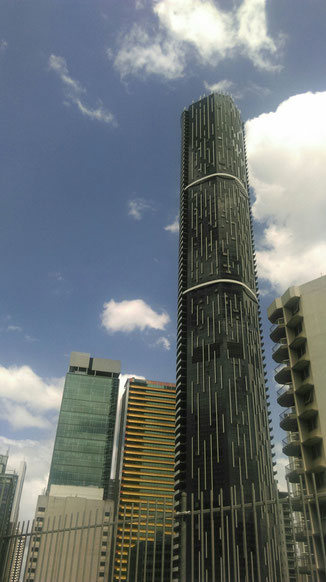 The next day me and Chloe, one of my roomies from the UK, decided to check out the Lone Pine Koala Sanctuary where you could cuddle a koala and pet and feed roo's! So we asked at the hostel reception what the best way of getting there would be and ended up buying a bus ticket for around 6$ both ways and an entry ticket for 30$ per person. We then headed off and after half an hour on a pretty hot bus we finally arrived there. Turns out that they not only have koalas and roos there but also lizards roaming freely, some owls and kookaburras, Tasmanian devils which you couldn't really see, a golden possum and dingoes! If you want a picture of you holding a koala you can buy your ticket there – one picture was 15$, but you can also get two or more. You then queue and get to hold the koala while you can have a friend take pictures and a photographer takes one or two "professional" ones that are printed later. Turns out koalas are really soft and fluffy! I want one!!
After that we had some 7$ fries there waiting for our pictures to be printed, which takes about 10min they said. But, guess what, stupid as we were we completely forgot about the pictures over our fries and walked on without collecting them, bought some roo feed and  continued to the roo enclosure. There we fed some of them, sat next to other laxing down taking houndreds of selfies and I even tried to hug one. It didn't like it…There's also some emus running around and a small wombat enclosure – tip, they sleep during the day and were not that exciting. After that we strolled through the rest of the sanctuary, checking out the other animals in their enclosures and headed home by bus. There we realized: darn we forgot our pictures!
Luckily the people from the sanctuary were really nice after I mailed them about out mistake and offered to send the prints to our home address! Thanks, guys! We had a nice day at the sanctuary, I think it's worth checking it out and you don't have to go and hold a koala if you don't want to.
Saddest part...I can't find the koala pictures I took! They mailed me the ones of myself holding one but the others...gone! A sad day...
---
---