Fraser Island!
I spent about four days touring Fraser Island – an amazing time! It felt like paradise and I was kind of sad when the ferry catapulted me back into real life Friday morning…I had booked a Cool Dingo tour to go and explore with other young people on a 4x4 bus, link below. Two days full of fun, nice people and amazing hidden spots on world's biggest sand island!
Day 1: I started my day fairly early but had a long breakfast before heading out. The first stop was Lake McKenzie. A big perched sand dune lake filled with freshwater and surrounded by white sandy beaches. There are only 80 perched sand dune lakes worldwide and you'll find forty of them on Fraser Island! After walking around the lake in my bikini, taking pictures and going for a swim in the fairly warm water – apparently it's very good for your skin! – my tour bus moved on. We went to explore a sub Mediterranean rainforest: gorgeous landscape! Between tons of palm and other huge trees you'll find creeks with water that is so clear, you won't even notice it at first! We filled up our water bottles there and continued through the forest.
At about five we started heading home to the western beach to watch the sun go down over the ocean, an amazing experience and a very beautiful sunset! We had a drink at the Sand Bar down there before heading up for the buffet dinner. At night you can stay at the Cool Dingo Bar and talk to other travellers, play pool or party in their disco!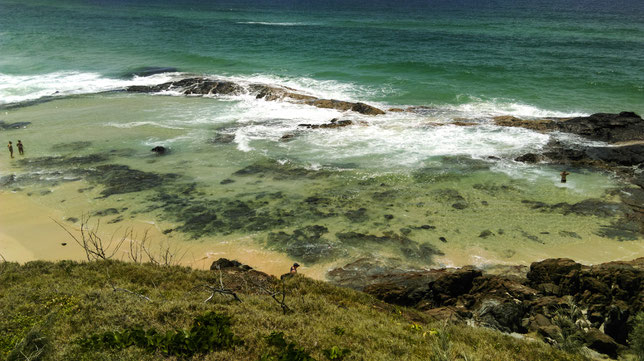 Day 2: We headed out at 8 a.m. because the plan was to head over to the eastern side of the island. First we drove up the 75 Miles beach and stopped at a small airplane parking area. There you have the opportunity to hop onto a small 7 seat plane to do a 15min flight around the island! Fraser Island is one of the two places on earth where the planes take off and land on the beach in the sand! (The other one's in Scotland.) After a bit of back and forth I decided to join them, one flight is 80$ p. Person. And I tell you, I'm glad I joined! The flight really was worth it! First you fly over the sea looking for marine life, then you turn towards the island, flying over dunes and butterfly lake (it really looks just like a butterfly) and on the way back you fly over the coloured sands, Eli Creek and the Maheno shipwreck, passing tons of staring other tourists! Then you land in the sand where our bus picked us up and we continued down the beach. Our first stop were the Champagne Pools were we spent about two hours swimming and sunbathing. After that we did a quick drive over to the Indian Rock: hike up there and get a 360°C view around, look directly under you to see some turtles swimming in the ocean or just sit there enjoying the breeze and smell of the ocean.
On our way back we stopped at the Maheno shipwreck, a ship built in Scotland for New Zealand that – after being sold – stranded in Australia on its way to its new owner: the Japanese government. What a life story! It's a very impressive shipwreck and when there are few people one can take some amazing pictures! The last stop before heading home was Eli Creek: formed by fresh rainwater coming out of the sand (it's stored in the inside of the island!) and leading into the sea. As it got kind of cold by then I stayed dressed in my shorts and just walked in the creek upstream under trees and rainforesty flora. Some of the others took a rubber ring and floated down the creek, the tour bus had brought some with. After that we headed home where we could hop into the pool or Jacuzzi at the hotel (we weren't even booked into that, we were sleeping in wilderness lodges) or go to the beach again to see another sunset. However I had to go back to my room to pack up my stuff as my ferry would leave 7:30 a.m. the next morning! But I got to enjoy another awesome night playing pool (I won!) and eating as much as I could at the buffet dinner.
If you don't want to experience Fraser Island all on your own I really recommend the Cool Dingo tours but be careful with what you book! I first thought that I would get 4 days on Fraser hence my tour was called "4 days 3 nights" but they actually count in arrival and departure day so I ended up with two days left to explore the island. Other than that the staff is really nice, the lodges are nice (although a 4 bed room only has one plug point, bring an adapter!) and the bathrooms were very clean.
---
---