More Art and Knowledge!
Location:
Tourist Information
Art Museum Costs: 10 RAND (equals about 0.63€ | 0.7$ | 0.54£)
For combi ticket costs see blog entry "Exploring Graaff-Reinet #1"!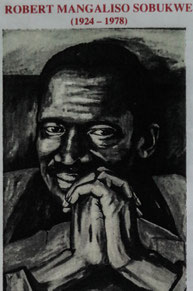 When I was in Graaff-Reinet I visited two other museums: one - The Old Library -  connected to the tourism office and the art museum next doors. Be careful when buying a combination ticket at the tourist information, it does not include the art museum! So, if you want to visit for example the Reinet House, the museum in the tourism office and the art museum you have to buy a two museum ticket! Tickets to the art museum are to be purchased there only!
First I entered the museum at the tourist information. The first room gives very interesting background story and details on 'hydraulic fracturing' or 'fracking'. After explaining the progress there is lots of info about how risky and outdated this method is and that there are far more economic risks than benefits. Apparently the Karoo area has great wind and solar power opportunities and by now these are cheaper than new coal or nuclear power plants, imagine that!
Given that South Africa is the biggest rock art treasury in the world, the second room was full of copies of various paintings found in different areas. They also showed off some old tools like grinding stones, hand axes and even San artefacts: ostrich egg shell belts (very pretty!), sandals, skin bags and more.
In the third and biggest room one can find a huge collection of fossils, the most impressive one probably being a 1 m long elephant femur! The interesting part about it is that it is supposed to be 5 000 to 10 000 years old!
Then there is two rooms dedicated to slavery and South Africa's history. Apparently being a christian slave gave you far more advantages: you could marry, married couples were not to be seperated, you could attend church and your children even got to attend school three times a week! A sentence of the proclamation of March 18th 1823: "Domestic Punishment is never to exceed 25 lashes..." - Great, isn't it?
Finally, moving on to the last room: M. R. Sobukwe. His life, his family, his doings, the Pan Africanist Congress and his death. Probably the room I spent most of my time in, reading all about it and touching the desk where he is said to have written his book "How Can Men Die Better". And I'm telling you, I cannot list all I've learned there, you'll have to go there yourselves or look it up online! An experience and knowledge that I'll definately keep!
"There is only one race. The human race." - M. R. Sobukwe
And then there was the art museum. A very nice and open-minded lady at the reception sold me the ticket and I stepped inside. Again, taking pictures was not allowed...sorry! The current exhibition was on african artists from the 20th century and at first, I wanted to pick three favorites to mention them here but I ended up listing 18 paintings!! There were some amazing pieces of art there and I could look at all of them without being interrupted as I was the only visitor. I guess visiting South Africa in winter really brings the advantage of not having to bear hordes of tourists running around from one place to another! But, back to the art in the museum, for only paying 10 RAND it was a really enjoyable experience and I highly recommend it!
I'll list some of my favourites:
'Tribal Procession' by Jack Lugg, 1965
'Barbara' by Zoltan Borbereki, 1959
'The Waitress' by Katrine Harries, 1960
'Dream Image' by George Boys, 1964
'African Pietà' by Marianne Podlashuc, 1962
Any favourites? Leave a comment!
---