The Reinet House
There are more guests staying at the farm now and with that there is more work to be done. But I still got to visit Graaff-Reinet. Hester took me with her as she was going to do some grocery shopping and thought, that I could spend that time exploring Graaff-Reinet. And so I did.
The most popular sight in this town is probably the Reinet House, so I started with that one. It is situated not far from the Tourist Information. Just walk in opposite direction of the big church and turn left. You'll reach Parsonage Street. At its end you can already see the big house, now a museum. Unfortunately, taking pictures inside the house is not allowed.
Tickets:
I got my ticket when I purchased a two museum combination ticket at the Tourist Information. I could then look around at their museum and enter the Reinet House.
Costs: 40 RAND (equals about 2.52€ | 2.84$ | 2.13£)
They also have 3, 4, 5 and 6 museum combination tickets!
The Reinet House formerly was a Dutch Reformed Parsonage, completed in 1812. Home to the Murray family for 82 consecutive years it has been declared a museum in 1956.
When you enter the house you are greeted by a friendly lady to whom you show your ticket bought from the Tourist Information or you buy one there. She then hands you a plan of the rooms and you're free to explore on your own. The house still has the furniture used by the Murray family in the 19th century! First I went straight ahead to a big dining hall, then continued into the kitchen were I could read some info about how to make butter and some very old recipes on fried onions and scrambled eggs. Then there was a small dining room, a bedroom with a bed that seemed way to short and the study with some cool looking old books and a bible. On the other side of the big dining hall there was the family room, the girls bedroom and a lounge. On this floor I counted three pianos! Who needs three pianos?!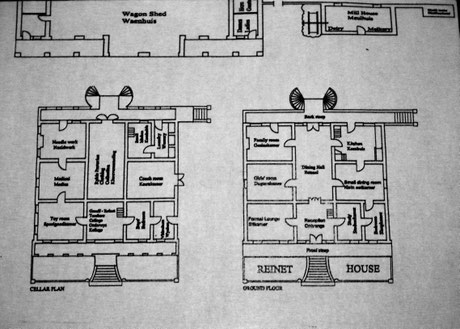 When you're done with the main floor you can step outside through the backdoor and chose, whether you want to visit the cellar first, or roam around in the big garden. I headed straight to the cellar were there is a room full with charming needlework. The Murrays also had their own little hospital in their cellar! With everything a doctor needs - including ominous, strange looking objects you definitely don't want him to use during your examination! - and two spare beds and a crib for a baby.
What might seem a little disturbing is the set up: leaving the medical room with a creepy feeling you enter the toy room! Followed by the boys bedroom nex to...a dentistry? I really hope the Murrays didn't have it like that in the old days...poor boy!
When I was done there I entered a seperate room full of Victorian clothings. It was interesting to see how the style changed and what amount of underwear a woman had to wear! I then paid a short visit to the small kitchen, connected to the bigger one on the upper floor via small stairs, and the laundry room. There it smelled really good because they have some old soaps on the shelves that still smell! There was some lye and boer soap there.
My last stop was the pretty garden and wagon shed to see some of the wagons and carriages as well as some saddles. In the middle of the yard there is a really big tree with a sign on it that says "Australian Banyan, planted in 1878". Such an old tree! And finally I took a look at the mill house and some agricultural gear set up in the garden. I then turned back to leave and visit another museum...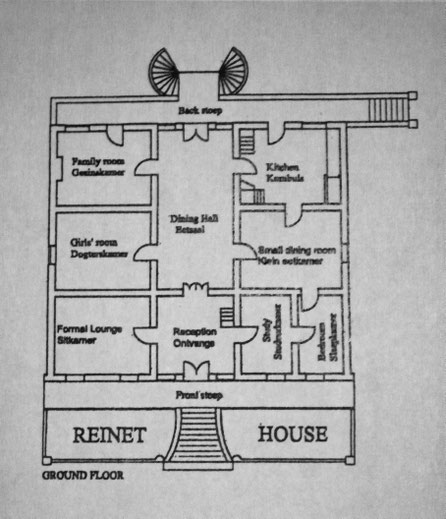 My Highlights:
A rather big toy house made completely out of porcupine quill! By J. F. Joubert.
Kewpie dolls: seeing those partially broken dolls I suddenly felt like in a horror movie! Very creepy, especially with denistry and old surgery tools next doors!
The really good smell of the soaps in the laundry room.
And a tiny black stove and oven, beautiful flowers painted on the middle of its tiles for decoration. So sad that I wasn't allowed to take a picture.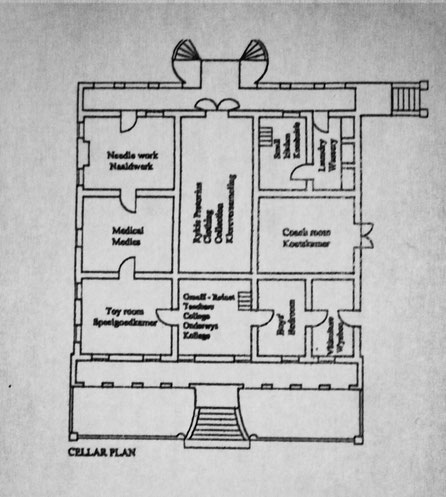 ---