Adventure Time!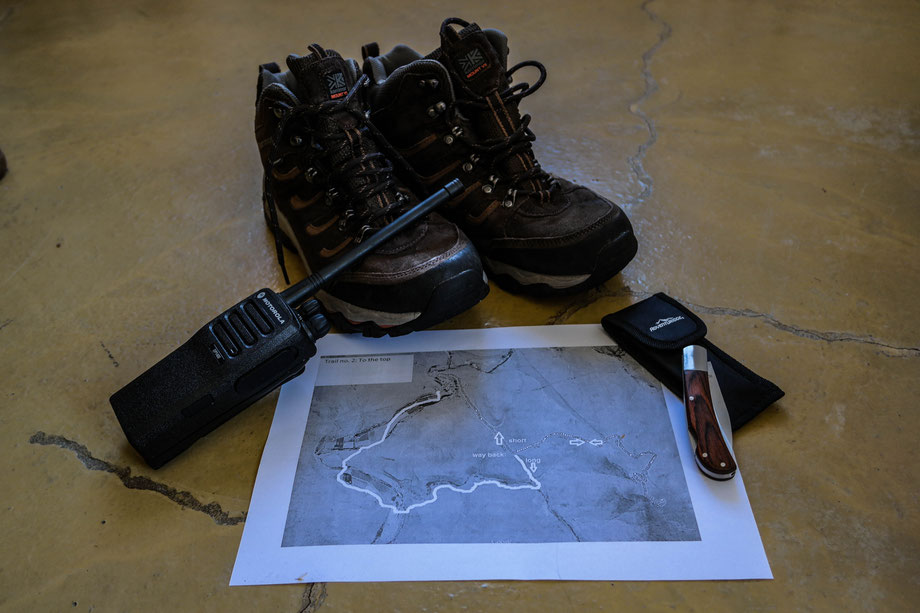 Today I decided to spent my day off work hiking on the farm land. There are five trails you can choose from: a short walk around some sheep pens, an about 4 1/2 hour walk to the top of a nearby mountain to get a 360° view - rated low to medium difficulty, a mountain bike trail passing a flock of flamingos (they are only here in summer, so strike that one), a route circling the farm and a 6 hour canyon walk ending in Nieu-Bethesda.
With the help of one of my friends back in Austria I finally chose the hike to the top of the mountain. "Low to medium level" I thought, "I can do that!" So I prepared some stuff to take with me and started walking. Sadly the dogs were not allowed to accompany me (don't tell my mom I went alone!) because the sheep are currently lambing and they are afraid that the dogs could chase the mothers away from their lambs. Therefore I had to walk by myself.
The first part was not that difficult. I passed the staff houses, some sheep and followed the gravel road leading straight ahead. Soon I came to a crossing and not looking at the map I took with me or the signs there on the road, I went to the left. Wrong. Luckily the path didn't continue endlessly, it ended at an almost dry river where I saw some birds and then turned back to head the other way. I then reached a gate in the middle of the road - not the last one to come - entered and the path became a little steeper as I kept going. Every now and then there were some sheep at the side of the road, always fleeing when I came to close but nothing really exciting happened.
Various times I reached the point where I thought "Almost there!" but in the end I reached the top of the next hill and saw that the road continued endlessly! Sooner or later I got tired, I took off my sweater and reorganized the stuff I took with me to make it easier for me to carry them. That's when I realized: I did not bring any water! Why would anyone forget to bring water when climbing a mountain in South Africa?! On a clear day with nothing but the sun burning down?
Well...I soon hated me for that.
I eventually reached the part where my legs were starting to give up because the trail got really steep and every other step I slipped on the loose gravel and sand. Slowly thoughts like "Why did I choose this trail?!" creeped into my mind and I tried to focus on how lovely the way back would be because downhill is easier than up. Furthermore I started thinking about giving up, not climbing all the way to the top, but I wanted to achieve that. For myself. For satisfaction and pride. So, I continued on, realizing that I probably took way to long on my way up that mountain and that I was in really bad shape! But, I eventually reached the top! Shortly before reaching it there was a new sound to be heard. I looked to my left and saw a guinea pig like figure sitting on one of the bigger rocks, loking at me. I quickly pulled out my camera to take a picture and the next moment it was gone. I continued and, as promised to myself earlier, finally got the satisfaction of reaching the top of the mountain! I did it! But of course in a moment like that you're not dropping to the ground, tired and echausted. I suddenly felt new energy, climbed from one spot to the next and probably took way to many pictures! Do you know how hard it is to take a picture of oneself standing on top of a mountain when your camera does not have a count down mode you could pre-set? I had to get creative and as I found a good spot I started a video, posing a little bit and afterwards, at home, selected some images to save as a picture!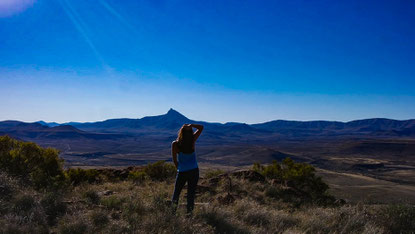 Putting the beautiful and breath-taking scenery aside: I still regret not bringing water, never do that! I'm glad that nothing happened to me, my lips are still dried out! Always bring something to drink!
---