Art Excursion?
Early in the morning I begin my first day at the Ganora Guestfarm. Although I was told that I could sleep in, I didn't. I don't know why and I assure you: it was a mistake! I should've gotten my sleep when I had the chance!
Anyways, I start my day, have some breakfast and...realize I don't have anything to do, because the guests are coming in the evening. So I play with the dogs, sit in front of my laptop trying to fix the god damn Lightroom program - I succeeded eventually - and wait. Because she didn't need me at the time, my host asked me whether I wanted to do a bushmen paintings tour: Some guy from Nieu-Bethesda wanted to do the tour and I could join for free. So I did!
At around 3 p.m. the employee that guides those tours - Panky (or Henry) - fetched me and we started walking back the road that leads from the street sign to the farm buildings. He was quite fast and I first thought that someone was coming to pick us up to drive to those paintings but no. We suddenly, after walking straight through a herd of sheep, stopped in the middle of the road and waited...a long time. He showed me some plants in the area: the agave - or "tequila plant", smuggled in from Mexico, some new plant he didn't know because it should not be growing there and some small "flower" that in summer grows into a big bush with violet-blue-ish flowers.
The others then finally arrived. Though, instead of getting in the car, Panky opened an old gate next to the dirt road and we started walking down a small path. It was more or less a 200m walk until we reached the paintings! I didn't know that they were that close to the farm!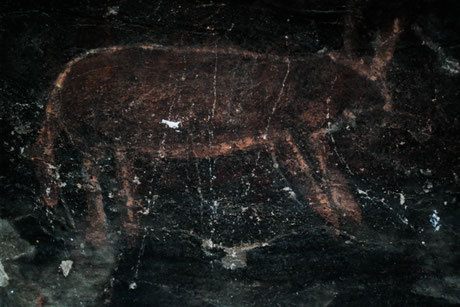 Panky told us something about the paintings and showed us some I would not have seen because the paint was almost gone. Apparently the bushmen used blood and stomach acid - gross - as paint for the red ones, the black images were mostly done with coal and there were some white paintings too. I can't remember what they were made from...
Then we were told that some of the red paintings apparently are over 7.000 years old, imagine that!
The guide also told us that there were always three shamans: one praying for healing, one for rain and one for hunting.
---