First Host!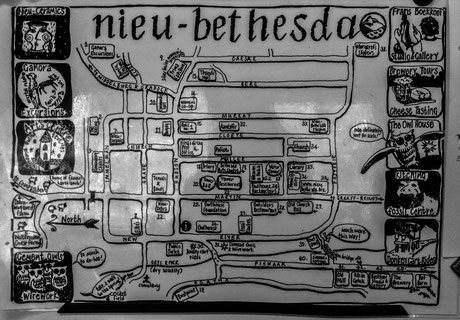 My first work&travel stop is the 4 000 hectare sheep and guest farm "Ganora" near Nieu-Bethesda. Hester, the host, picked me up in Graaff-Reinet and we first went grocery shopping there. We entered a small shop were farmers sell local fruits and self-made pastries. There we got some kind of bun filled with chicken - tasted really good!
Next Hester got into a shop fetching the meat she ordered and then we drove through the streets and stopped at some parking lot at the back of an ominous looking building. I wondered what that could be - there were no signs, no nothing that would tell you. So, I follow her inside and guess what! I'm standing in the middle of a Spar store! Probably one of the biggest supermarket chains in Austria and here I am in South Africa, purchasing Spar items once more! It looked quite different though, much less organized and the cash point was just a table with a cash register on top, not the fancy moving thing you put your groceries on and they are carried forwards by that - I don't even know the German word for it so I can't look it up in a dictionary...but you know what I mean, right? Anyways, off we go, heading home with food and thousands of bottles of beer: Heineken, Windhoek, Amstel, Savannah....
We then left Graaff-Reinet, I was quite disappointed that I didn't get to walk to the Valley of Desolation - what a happy name - but after asking at the BnB if it was possible, they told me to not hike it. It's quite a long walk and when walking apparently everyone offers you a lift and hitch hiking on your own is not recommended...ever. So, I forgot about that (for now) and we were on the road to the farm. Talking about this and that I stopped mid-sentece because there was a monkey sitting at the side of the road. Yes, here in South Africa nothing special, I guess it would be like seeing a rabbit in Austria, but for me quite unusual. Soon the asphalt road ended and about 3 km later we reached Nieu-Bethesda. The rest of the trip was very bumpy but I enjoyed the view very much. Even though it is very dry at the moment the scenery is unforgetable! After some time we reached a crossing with a big stone sign stating the name of the farm. Another few 100 metres and a very steep downhill road - you literally drive along and the road just ends in front of you, you can't see down there the first moment - we arrived in front of the big homestead. As I opened the car door a brown and white nose immediately greeted me: Chocolate, or Chocy - one of my new companions.
---
---