Arriving...
August 29th, about 7 p.m. I board my plane to fly with Qatar Airways to Doha, Qatar, and try to relax telling myself that the plane won't crash. No, I'm not afraid of flying, only crashing.
Well, I safely arrived in Doha at 2 a.m. (still had 31°C outside!). I texted some friends while waiting, managed to swap planes and was then on my way to Johannesburg, South Africa!
Once I arrived there I got my backpack, had to unwrap the plastic and followed the signs to the exit.
Next steps: buy a south african SIM card, find the hotel you booked a shuttle from, get on your bus!
As I learned not as easy as it sounds. The people at the airport are very friendly, everyone offers to help you. I found the Vodacom Shop, went inside and oh! Nevermind! My phone is dead. I took a second, older phone with me but stupid me didn't think about charging it. Luckily they offered to charge it for me, I waited a while and then they called me back inside. But, of course it's not that easy! No, my phone was dead. You couldn't turn it on. So I left, without a SIM card, wondering how to contact my host. I crossed the street to enter the Intercontinental Hotel - I had previously contacted them because of a shuttle to the bus station and they booked one for me. They told me to sit and wait and that's what I did...a looong time. Back to texting my friends, telling my mother that I'm okay and so on...
They even offered to charge my phone for me - no, you don't charge your phone yourself in a high ranked hotel. So they did and guess what, in the end it worked! Still did not have a SIM card though...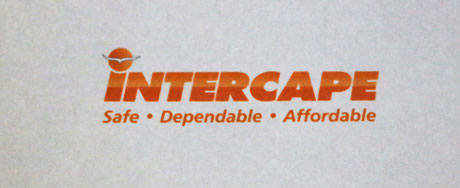 Later my driver collected me, we talked a bit in the car about how confused I was about driving on the left side of the road and after 45 min. I arrived at the bus station. First thing I notice: I was litterally the only white person in that entire station. No complaining whatsoever but I sure was surprised! Half an hour later I got on the Intercape Bus to Graaff-Reinet and after eating some of my chocolate waffles - they had molten into one big waffle by that time - I fell asleep, tired as I was. I woke up several times and noticed when stopping in one town: they did not tell you, what stop it was. Me, as an austrian girl, I am used to a voice on every bus or train telling you where you are so I got a bit nervous, to say the least. Nevertheless, I fell asleep again! Great, I know. Waking up at 2:35 a.m. I looked outside a window to my right, looking for road signs until I realized "Stupid me, the signs are on the other side!". So, I stretched my neck only to see us passing a sign that said "Graaff-Reinet". I am so glad that I woke up just in time!! I got off the bus and was collected by the nice lady from the BnB "Beau & I" where I stayed the night. I highly recommend it, they are very welcoming and friendly and the breakfast was amazing!!
As planned, I contacted my host via Whatsapp, telling her that I did not get a south african SIM card and in the afternoon she picked me up, leaving for her farm near Nieu-Bethesda...
Useful tips for travelling in South Africa:
When going by bus, book Intercape: Translux might be cheaper, but the seats are very small and rather uncomfortable!
Always bring some cash! There are places where you cannot pay with credit card and some towns won't even have an ATM!
B&B's are very common and cheap, so if you want to save some money: That's the place for you!
---
---